L2L & ChurchHarmony
Our owner's family has participated for over 30 years!
Lads2Leaders
Thanks for taking the time to find out more about L2L & ChurchHarmony! Alrighty then, let's get to it. Here's the 'WHY'. Click the video below to see a typical Sunday night at North Highlands church of Christ in Russellville, AL where we attend. Our owner and his family have been involved with L2L for over 30 years now, and his children are participants in the Nashville, TN location this year!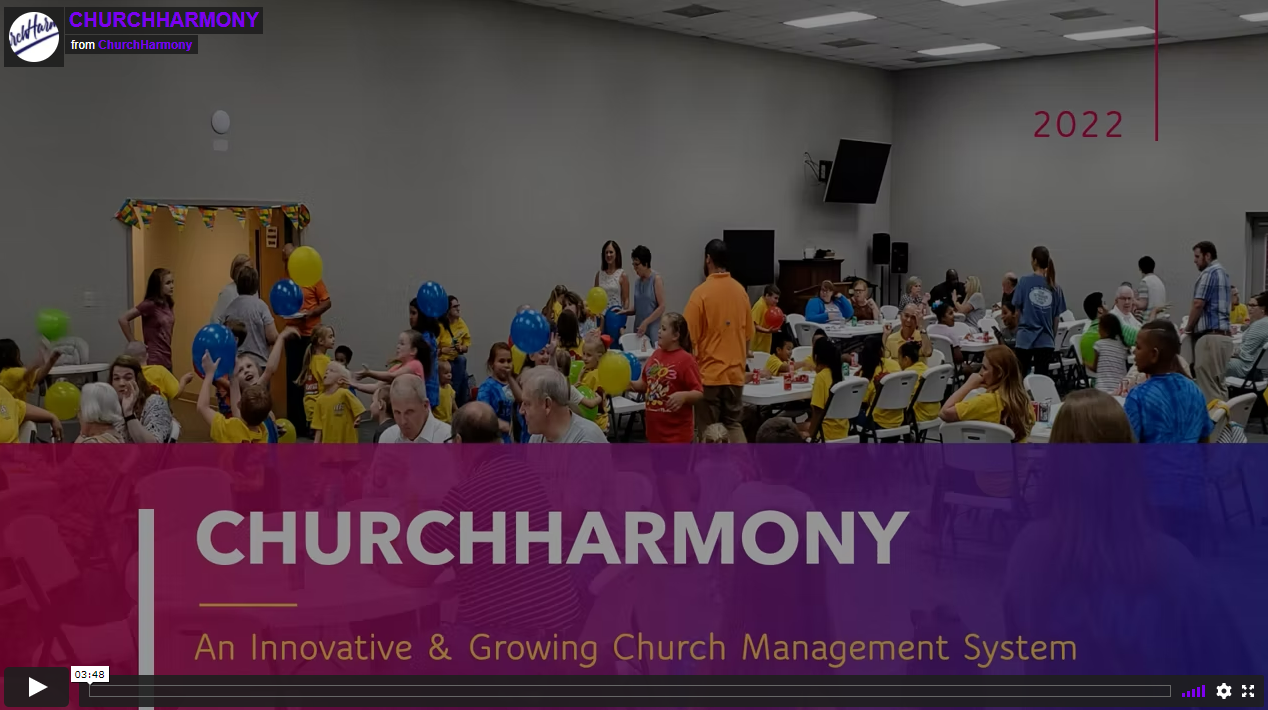 Yep, us too.
As with nearly any church we've spoken with, we all have the same problem. Everybody is so busy, its so hard to carve out 30 mins to an hour in any given week to do a church function, much less a group function such as a L2L practice. What seems like sports is most important these days, how do we get our involvement up? How do we get the youth (and their parents) excited about church events and put it first? How can we get most of a team together to practice, or meet for a Bible study with everyone's schedules being so different!
As it pertains specifically to L2L, our church was plagued with chaotic schedules for both students and parents, everything was being tracked on paper, no one was pushing it, and most important there wasn't any history of who really did what and for how long! Participation and overall church attendance was plummeting. Yes, COVID didn't help. Then came all the other issues. How were we supposed to track who was in Winner's Circle, or what level they were supposed to be on in a progressive event where the rules change yearly. How about tracking completion or points for various events...or this or that? Five out of the twelve could make a practice so what do we do? Sound Familiar?
Beyond L2L, what about all the different paper sign up forms that no one ever seems to fill out any more, not to mention its not databased nor searchable. What about when someone changes phone numbers or needs to update an email address? What about when someone moves or 'used to be a member' and you just want to send a card of encouragement but don't have any contact info?
We were using a variety of different systems to keep people updated via text and email, manage our weekly mass mail sends, and accept online donations. Management nightmare. 
The Most Innovative and Best Church Management Software (ChMS) on the market today!
ChurchHarmony was created to be used as a single system to streamline church operations, potentially decrease costs, and aide in information processing and communication for your entire congregation. ChurchHarmony is a highly scalable, secure, cloud based SaaS (Software as a Service) that can be adopted and used for years to come for any size church. Congregations throughout the USA can use ChurchHarmony for their member directory where everyone keeps their own contact info updated, send out mass mail updates and/or your weekly bulletin, send out text notifications (praise reports, prayer requests, meeting updates, etc), accept online donations, and MUCH more. Efficiently use member groups to manage each participation 'event' at L2L, or individual Bible classes you may have. We firmly believe in creating harmony between church systems, people, and processes. Success in your ministries, especially the L2L program, and the engagement and growth of your congregation is our primary goal. We believe ChurchHarmony can help support you for years to come. A more efficient, connected, and involved church yields more for HIS kingdom.
Strengthen Your Congregation & Your L2L Program
Increase involvement, participation, and engagement, and become more efficient while you're at it! Keep member groups connected and interact via dynamic discussions, online chat, a shared event calendar, and more. Track attendance. At North Highlands, we have a 'member group' setup for each L2L 'event' so that our participants can share files, resources, and interact with each other. Each coordinator can send out group text and emails when needed. 
Below are some of the highlighted features of ChurchHarmony that are ideal for L2L!
Member groups are a collection of users working together for a common purpose or goal. We consider this the core of our system because this just isn't a collection of users that are matched on some sort of criteria or filter automatically. Member groups are living organic and dynamic groups that interact online and in person with each other.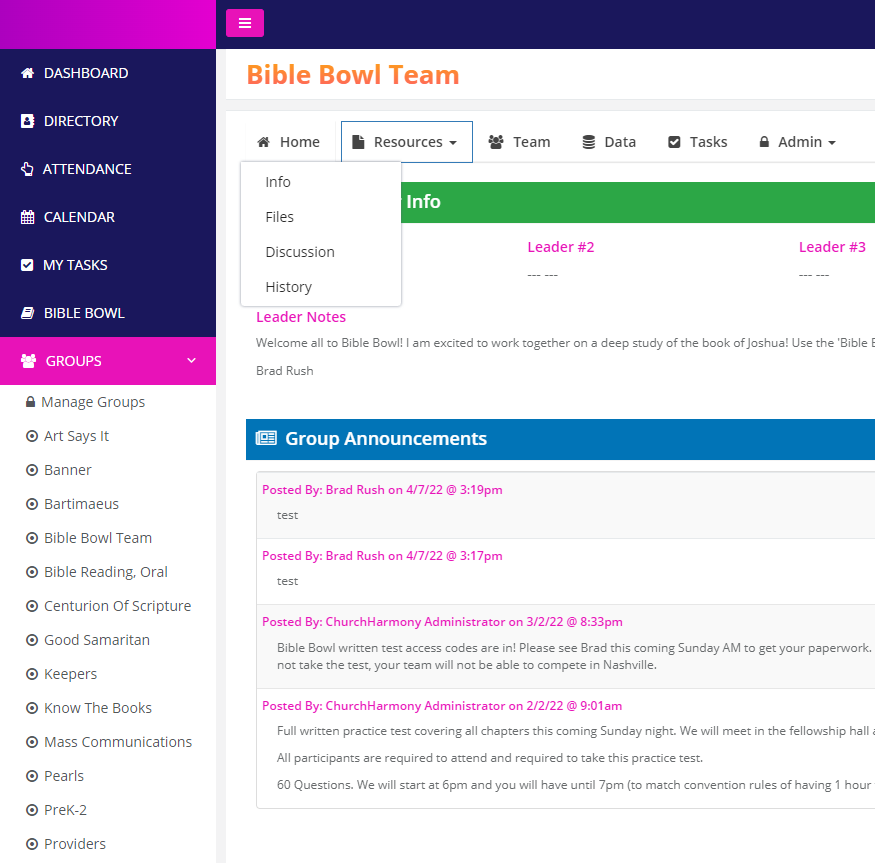 A great efficiency increase example here is Good Samaritan. Participants can post their own completed activities for coordinator approval. The coordinator can review and assign point values that are tracked throughout the year for easy management and award recognition! No more phone calls, texts, or writing things down for every participant to track Good Samaritan data. Oh and by the way, its tracked forever! Bronze this year, great. The coordinator and student will see that and know that they need to go Silver next!
Great for tracking yearly progression of participant data, to see what was earned yearly, etc. Sort and Filter to see the data. Used for the Red Coat Award, college submissions, resumes, and personal tracking too. A student can upload their actual speech to their participation (even if they didn't place) so that in 6 years from now when they want to get that speech again for whatever reason...they can with ChurchHarmony! You'll no longer have to call the church secretary or the event coordinator that doesn't even go to your church anymore. Data management...simplified.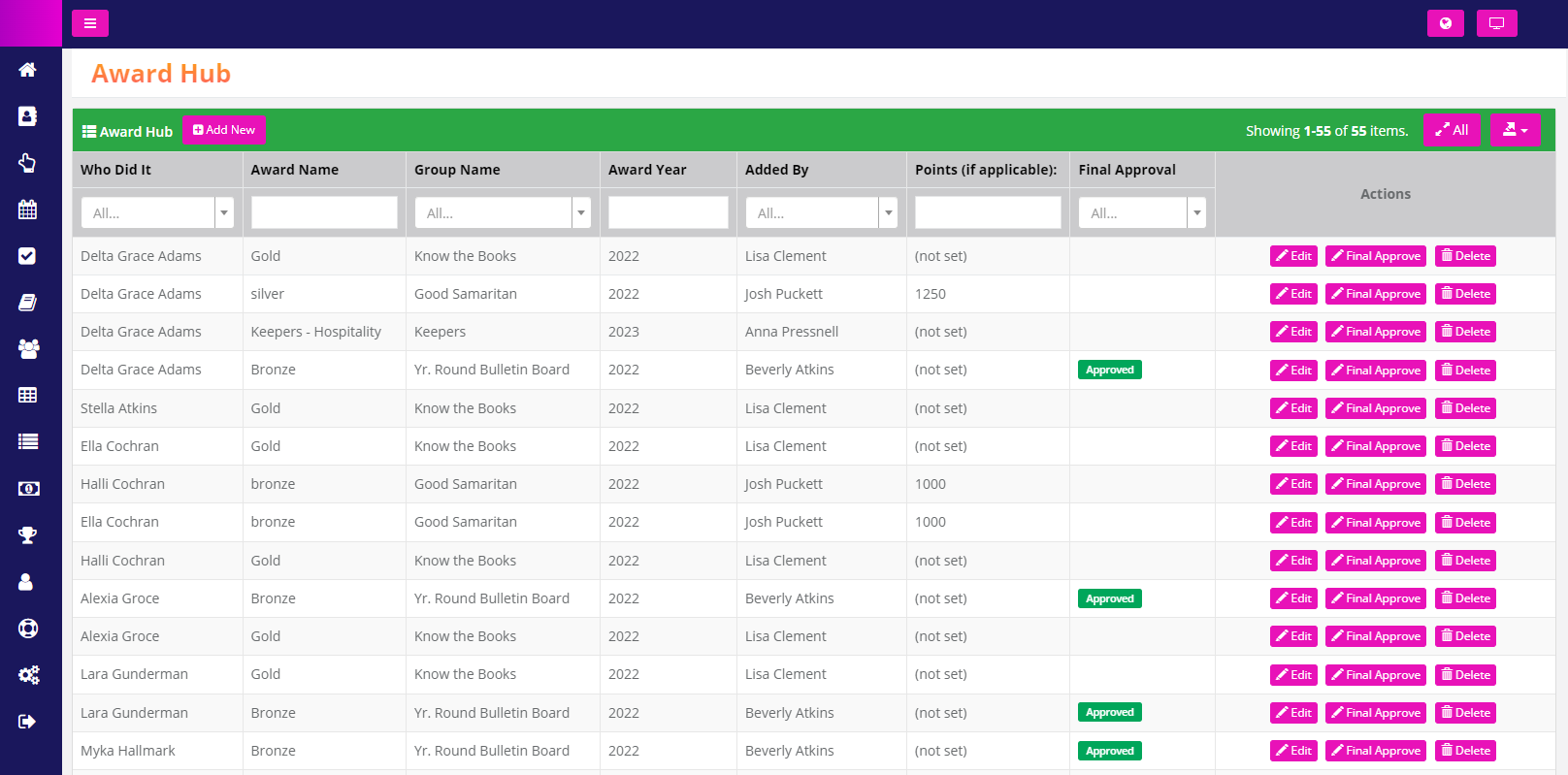 Available to any member within your account, not just 'Bible Bowl' participants. This module is currently built for the book of Joshua and can be used as a great in depth review for the book of Joshua. See instant results per chapter.
Testimonials
Don't Just take our word for it! Check out some of our real world user reviews by clicking on the Capterra button above or any of the video reviews below.
You'll find that with our Christian based foundation, we'll treat you like family.
We're here to help you get started, and hold your hand along the way. Look we're sick of the declining moral standards in the USA. Sick of wondering what our kids are going to come home and say about school. Sick of watching the news to see what's the next bad and unbelievable thing. More people need to find and stick with JESUS as that's the only answer to fix this mess. In an effort to help your members grow closer with each other and closer to God, as well as, strengthen, enhance, and support your congregation we KNOW our software will help.
We hope to develop a long-lasting partnership with you today!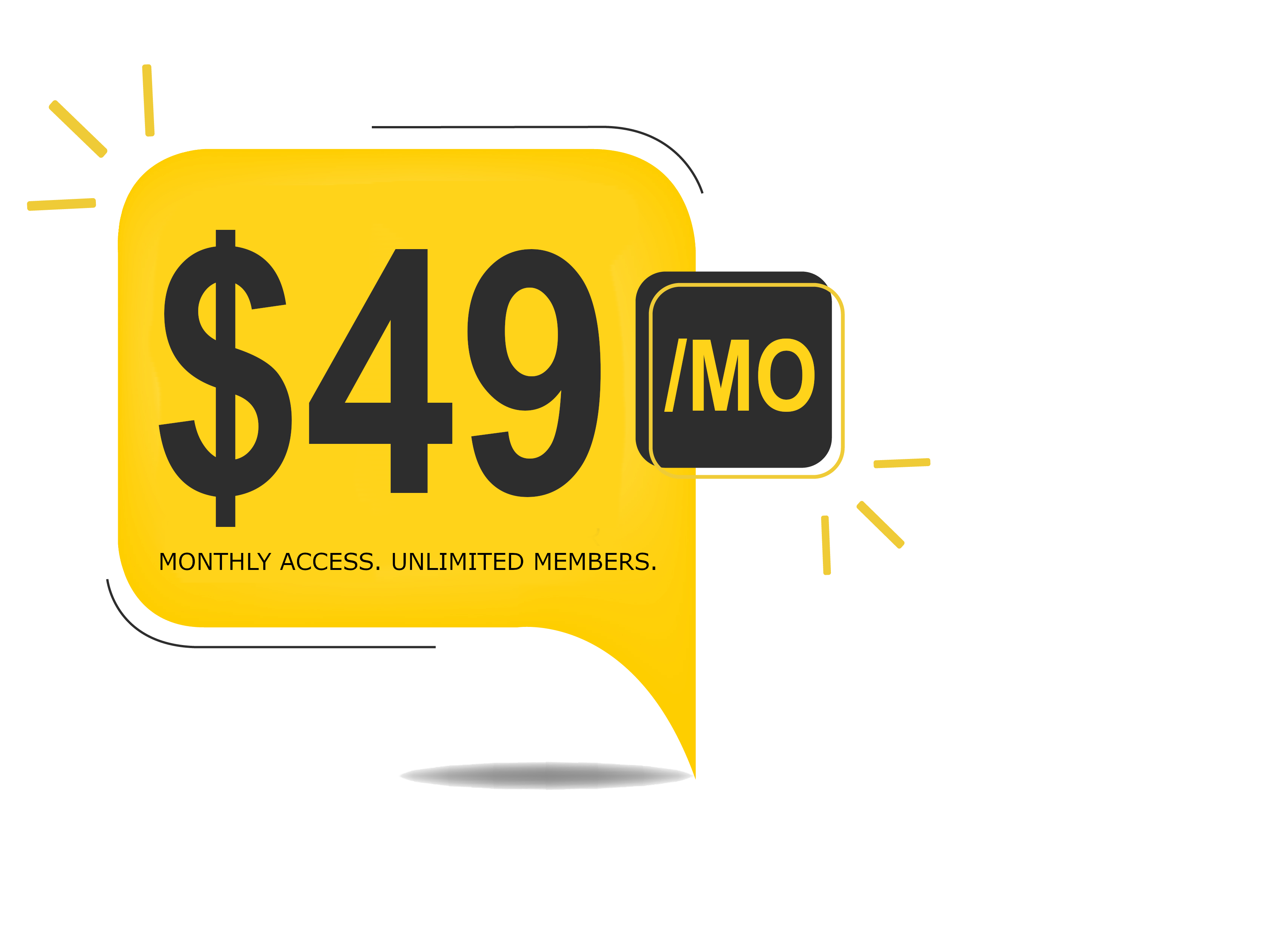 Sign Up Today!
Need to have text messaging, mass mailing, or online giving? Simply turn those features on after your account is setup and use them as you wish. You only pay for what you use monthly as an à la carte cost! Access All Features. No speed or storage space limits.
$49 Monthly Access or Save 5% for 1 YR $558.60 or save 10% for 2 YR $1058.40
Unlimited Members / Users & Support
Responsive & Mobile friendly, no need for a separate limited app.
No Setup or Cancellation Fees.
250 Free Monthly Texts. After that send text @ $.02/msg
1,000 Free Monthly eMails. After that send Mass Mail @ $0.0025/email
0.8-2.2% Giving & Tithe Rate. 0.8% / ACH Debit TRX. 2.2% + 30¢ / CARD TRX. ChurchHarmony charges just 30¢ / TRX to use our system regardless of type! Integrated online giving and donor management. (excluding AMEX. Subject to change if Stripe changes rates)

Schedule a Demo / Let's Chat Explore Features Sign Up Now!  
The Best ChMS Software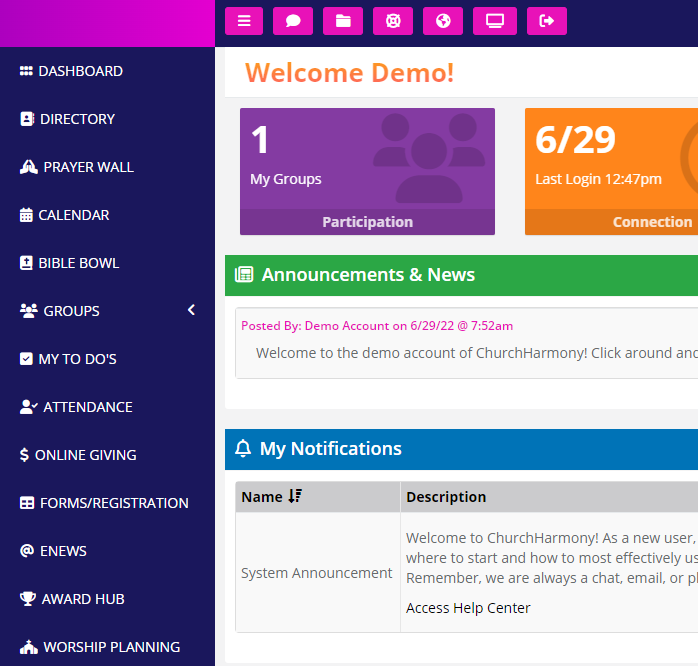 The Best ChMS Software
Church ChMS Dashboard
Use ChurchHarmony to keep your congregation connected 365 days / year. Easily send out mass notifications to your members via text or email! Easily use for your church sms software and more. Member groups that can be used for classes or participation based events such as CYC, Lads to Leaders, Exposure, Polishing the Pulpit, etc. Overall class management, attendance, tasks, file sharing, and more couldn't be simpler. See why we are rated the best crm software for churches today!
"Its been very helpful to be able to have my students information to text, email, and stay in communication with anytime I need it. Their info changes all the time, and we share a lot of stuff with each other, so this app helps me be super efficient."
Click Here to See Vickey's Video Review!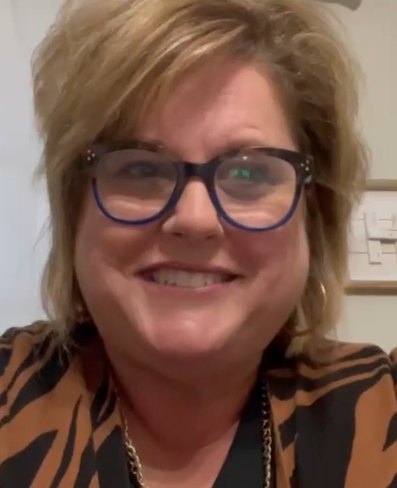 Vickey Cook
Mother, Coordinator, Teacher - Russellville, AL
$49
Monthly Access Fee
We do not limit your bandwidth speed, storage space, or support options. A simple and efficient system calls for simple and efficient pricing that can save you money in most cases!
0.8-2.2%
Giving & Tithe Rate
0.8% / ACH Debit TRX. 2.2% + 30¢ / CARD TRX. ChurchHarmony charges just 30¢ / TRX to use our system regardless of type! Integrated online giving and donor management.
$.02
Text Messaging Rate
Send out mass text updates to your individual member groups or your entire database. Great for praise reports, prayer requests, news, or those quick general updates.
$0.0025
Mass eMailing Rate
Send mass email to groups or your entire database with ease. Send now or schedule later. Replace your existing service with a simple easy to use system and a single bill.
ChurchHarmony is a secure and flexible ChMS whose purpose is to be the only system you need to manage your church....effectively.
Sign Up Now!