ChurchHarmony® Features
All-in-One Church Management Software full of Innovative Features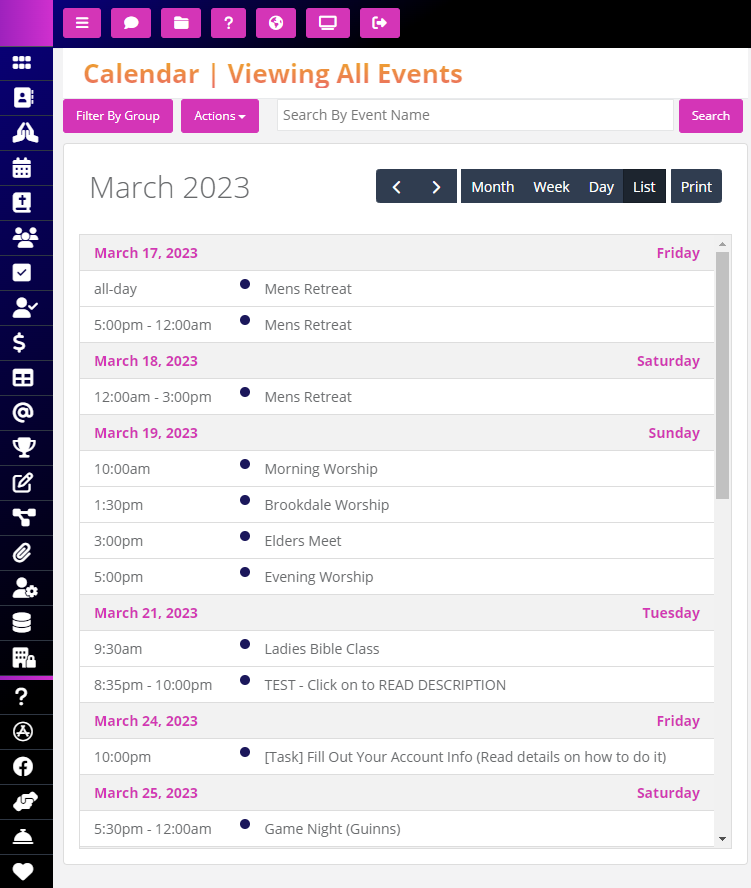 Integrated Efficiency
Save Time
Numerous user friendly modules that are integrated with each other to save time and increase efficiency. ChurchHarmony® tools are built for your church with the end user in mind. For example, create an upcoming service schedule in HarmonyFlo, that honors member's preferences and black out dates, and easily associate it to your calendar event for this upcoming Sunday.

Packed with a powerful approval system for building out those schedules, you can know well in advance of your upcoming needs. 

Have a single spot to mass communicate with your congregation. Pick and choose your member groups, members, and non-member contacts. Your choice to send sms text, email, mass phone call, some or all the above. Innovative, Integrated, and Flexible.
Mass Communication
Communicate with your members, visitors, & the community!
Industry leading mass communication rates backed by powerful easy to use functions.

Send mass email to groups or your entire database with ease at only .0025¢/email address. Send now or schedule later. Simple list management allowing members to sign up for lists that you can also manually manage. Add members, member groups, or upload a list via .csv file anytime. Replace your existing service with a simple easy to use system and a single bill.

Send mass text updates to your members. 2¢/msg segment (160 characters). Carrier restriction. Most phones merge segments to appear as 1 msg and notification on delivery. Option to include reply to text name and mobile number with every mass send! Truly enable dynamic 2 way text messaging!

Mass All Call @ just 3.5¢ / call / min. Send automated phone calls of pre-recorded messages to your members. Another industry leading price here as almost every provider offering this service is above $0.04. No contracts, no minimums.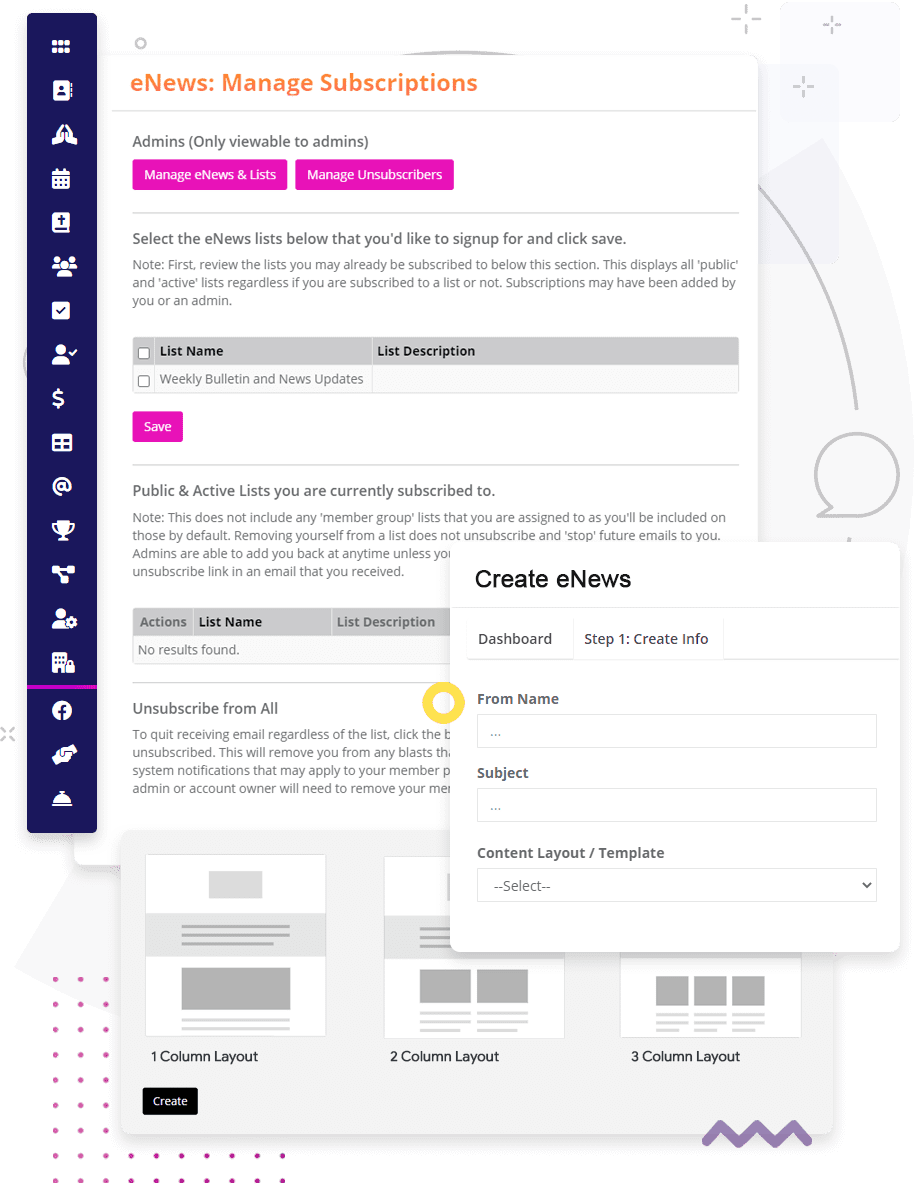 ChurchHarmony's integrating online giving platform just makes sense.
Tools that enable churches of all sizes to offer secure donations from anywhere, at any time, powered by administrative tools that make management easy.

Competitive industry leading payment processing rates. Accept gifts online for donations and payments at just 0.3% + 30¢ / transaction plus Stripe payment processing fees. Stripe's verified non-profit processing fee as of Jan 2023 is 0.8% for ACH Debit and 2.2% + 30¢ / transaction for major credit and debit cards, excluding AMEX.

Recurring giving. Allow members to setup recurring gifts.

Manage in person (manual) donations and online gifts in a single easy to use platform with the giving batch manager.

Allow your donors to cover the processing fees at donation time.

Reporting. Receipts. Year-end tax documents.
Subscribe Now
We've partnered with Stripe, the world-wide leader in online payments

Highly secure. PCI server provider level 1 certified which is the most stringent level in the industry.

$640B+ in payments processed by businesses on Stripe in 2021.

229,000+ companies use Stripe, including some of the world's leading brands like Target, Samsung, and The Home Depot.
0.3% + 30¢ / TRX
ChurchHarmony charges just 0.3% + 30¢ / TRX regardless of payment type to use our system! Stripe payment processing rates still apply.
0
of USA adults have purchased from businesses using Stripe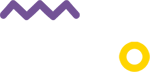 The Best Church Management Software
Streamline operations and become more efficient. Increase member engagement. Potentially decrease costs. Enhance communication. ChurchHarmony...powerful church management software that's easy to use.
We really are in this together!
With our Christian based foundation, we'll treat you like family. We're here to help you get started, and hold your hand along the way. In an effort to help your members grow closer with each other and closer to God, as well as, strengthen, enhance, and support your congregation we KNOW our software will help.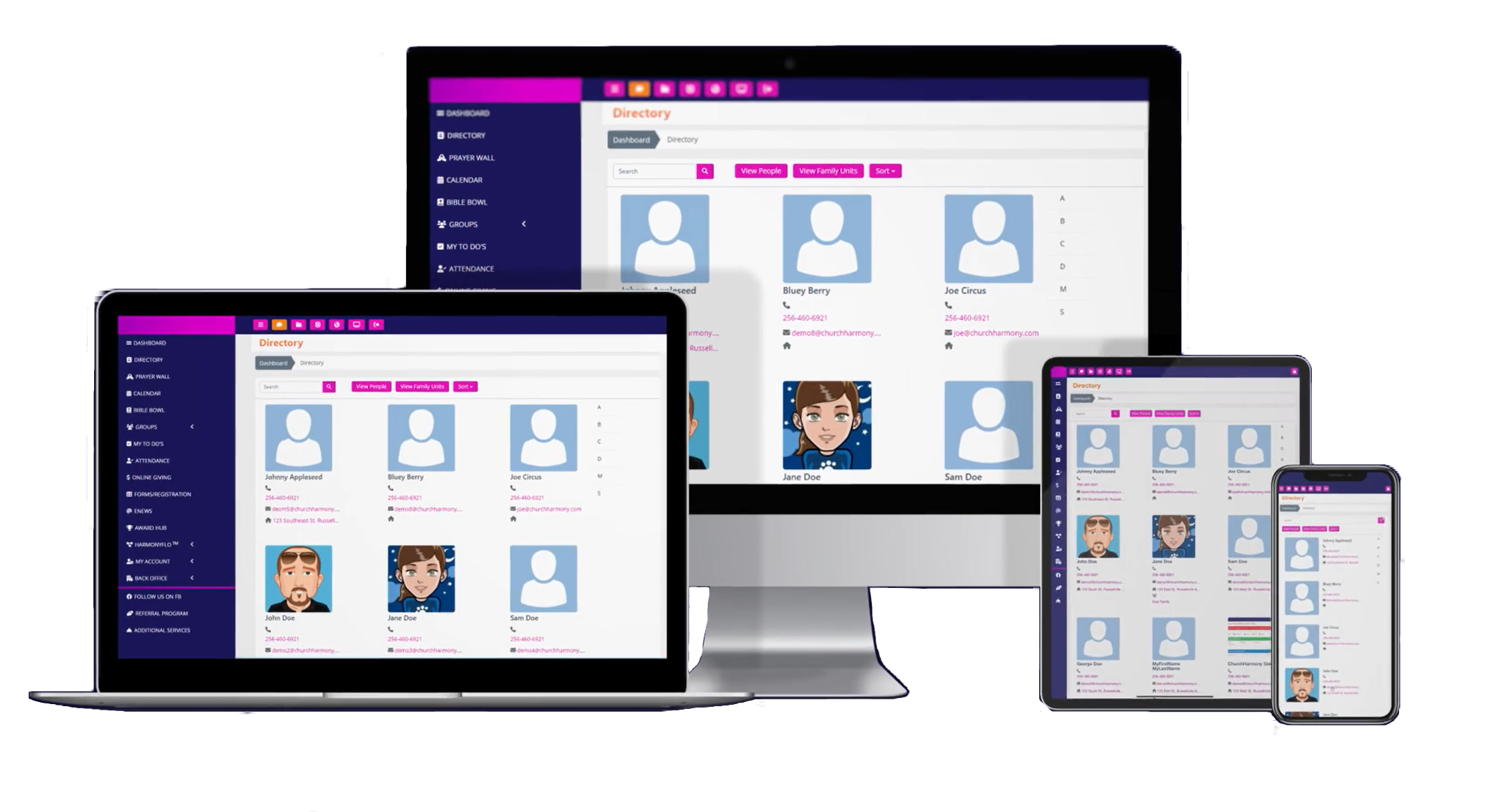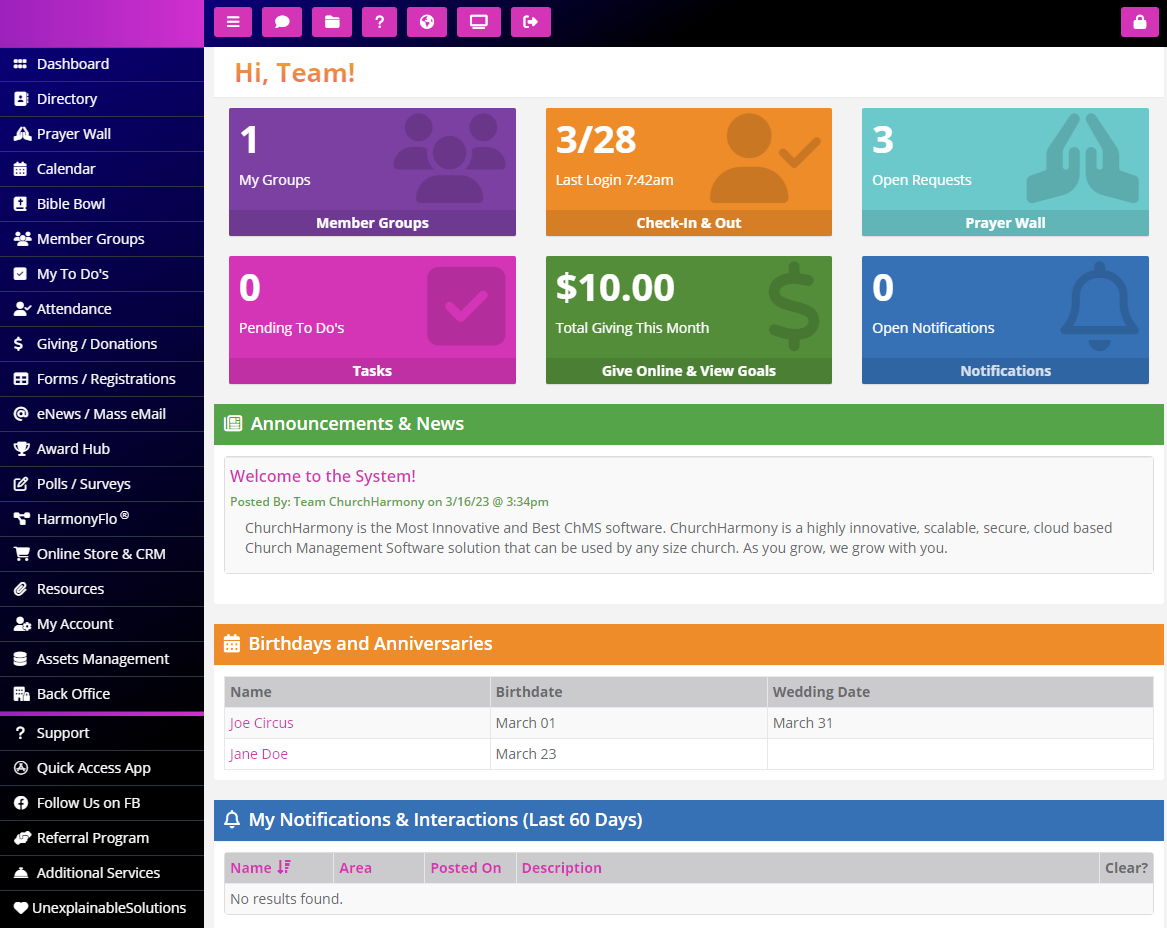 Featured Packed Affordable Church Management Software
Use ChurchHarmony® to efficiently manage member groups, events, communicate with your congregation, run reports, track attendance, and more. Online giving is state of the art with best in the industry pricing.

No add on modules, plugins, or packages. No fancy sales dancing. There's no contract, no setup fees, and no cancellation fees! Oh yeah...unlimited support is included too!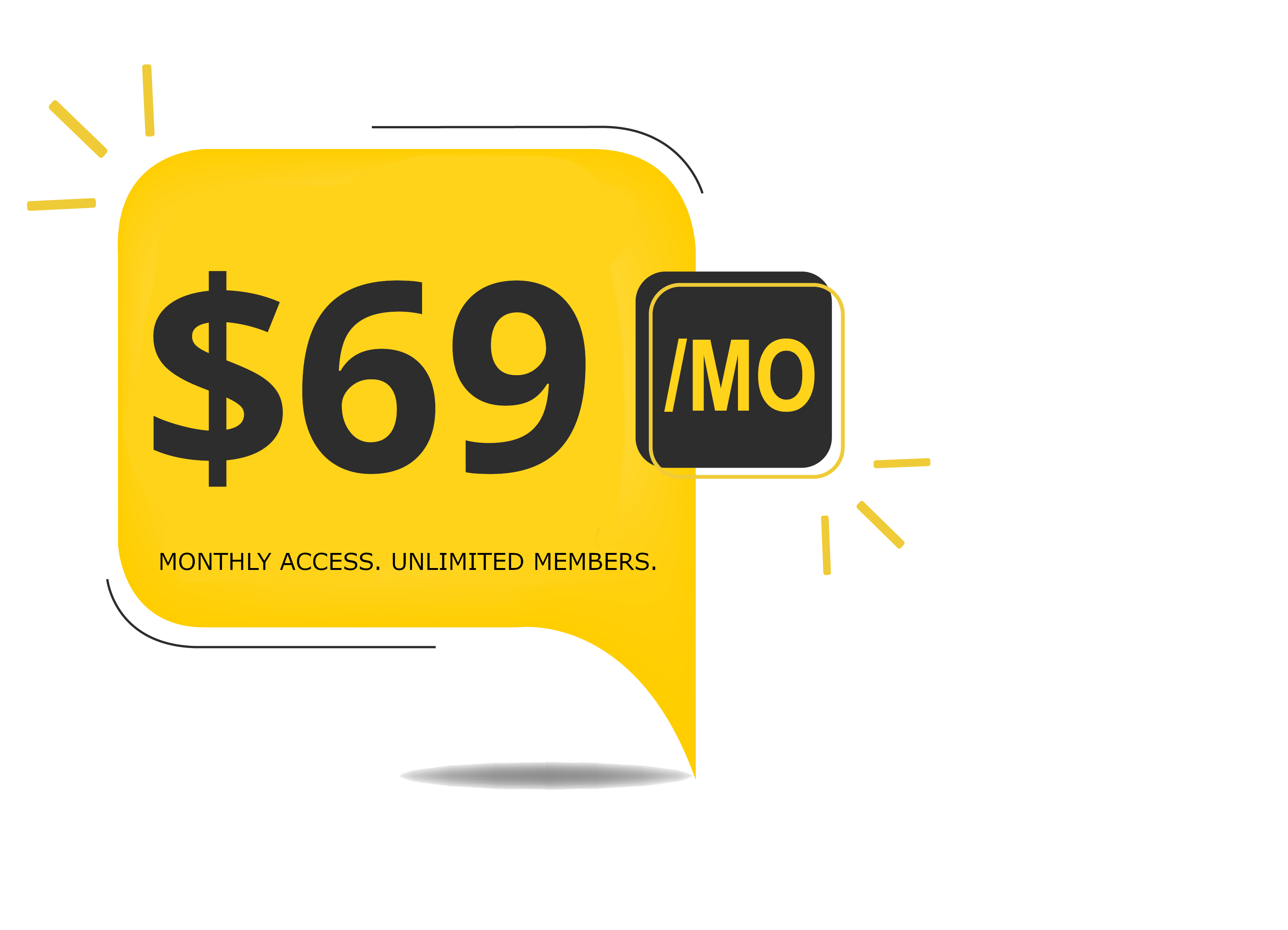 A church management solution packed with everything you need!
Gain more time to invest in your members and your community by simplifying your workflows and processes with ChurchHarmony's highly innovative features.
Just $49 / mo for access for your entire church!
No contracts or cancellation fees.

Unlimited Members!